A legacy of healing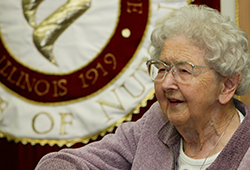 Anna Ropp '31 spent the majority of her 100-year life caring for others. On the family farm she watched over her three sons and kept house. At Mennonite Hospital she served as a charge nurse, handling admitting and dismissals, covering the emergency room and X-rays, and seeing that orders from doctors were carried out. She single-handedly took on the tasks that today are dispersed across an entire staff.
Anna retired at age 70. However even retirement couldn't keep her from the hospital. She volunteered regularly until she was well past age 95, along with her husband, Peter. While he would deliver mail, Anna would put together health packets or make quilts. Her strong work ethic earned her the respect of her peers; her initiative and reliability made her a favorite of doctors; and her kind demeanor won her the love of her patients.
"She was beloved," said son Ron Ropp.
Having learned about many caregiving issues through his mother, Ron decided to also make a career of helping others, one that eventually led him back to Mennonite Hospital.
Deciding to go into ministry, Ron went to college in Ohio, seminary in Indiana, and then moved to California where he led a church for six years before deciding to seek further training to better serve his community.
"With all of the problems in a big city, I decided I needed more training in counseling," Ron said. "I went to Claremont for two years and got my doctorate in pastoral counseling."
In 1970 Ron returned to the Midwest and took a position as chaplain at Mennonite Hospital, where he was born. He worked to develop a wholistic program-to emphasize healing the "whole" person-for patients that could heal the spiritual and emotional damage that often accompanies, or even precedes, illness. His approach was well-received, and in time he partnered with the hospital and two physicians to develop an outpatient counseling center. At the beginning of his career he was the only counselor at Mennonite Hospital, but after 19 years his staff grew to comprise 30 counselors and a support staff.
"Wherever area physicians would agree to work with a counselor with a mindset that they were dealing with a whole person, not just the physical, we would put a staff person in their practice," Ron said.
Ron also worked with area churches that helped support patients who could not afford the full fee for counseling services.
"Jesus said to go out to preach, teach, and heal," Ron said. "We do a lot of preaching and teaching, but healing is often left to medicine."
After 26 years he decided to leave BroMenn Healthcare, which had been created by a merger with Brokaw and Mennonite Hospitals. Soon after, he received a call from the chair of the Illinois State University Sociology Department. Knowing his experience as a chaplain would be beneficial, Ron was asked to teach a class on death and dying.
For the next 12 years Ron taught undergraduate and graduate courses in gerontology as an adjunct faculty member, drawing on his experiences in health care and counseling. During that time Ron also worked with area churches to evaluate their success as centers for healing. In addition he maintains close ties to the University and has worked with his wife, Jo; his brothers, Allen and Paul; as well as their wives, Shirley and Marjorie, to create the Anna Ropp Scholarship to honor their mother, who had given so much of herself to supporting the physical, mental, and spiritual well-being of those in her life.
"I'd like to see more people memorialize the name of a family member and help their story live on," Ron said.
Ron will be further supporting this scholarship with a bequest to help it make an even greater impact. Preference is given to a nontraditional nursing student who demonstrates concern for the body, mind, and spiritual aspects of nursing-values held strongly by Anna and the rest of the family.
"That's something I really prize in MCN," Ron said. "The people who took on the college at Illinois State took on the mission and the mindset of the Mennonite School of Nursing. They have maintained that in a way that not only emphasizes the physical but the spiritual and emotional as well."