A former Reggie Redbird continues to inspire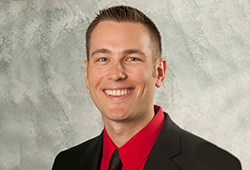 Illinois State was always a top choice for Tim Pantaleone '07. His mother was a graduate, several relatives held degrees from the University, and his sister was attending. But even with strong family endorsements, Pantaleone still did his research, making sure that Illinois State was an institution where he could be successful.
"I could see the investment that Illinois State was making in its students and in the future of the University," Pantaleone said. "I had the opportunity to meet with the College of Business dean and a lot of different professors'to have them take the time out of their day to meet with me was something that I really liked. Other universities didn't do that."
Pantaleone enrolled as a finance major and minored in accounting and economics. Alongside his studies he held part-time jobs in the Athletics equipment room, Barnes & Noble-Illinois State University Bookstore, and State Farm, as well as working as a Preview Guide in the summer. But school and work weren't his only commitments. Pantaleone also played the role of Reggie Redbird.
"When I was Reggie there were fewer people who did it," Pantaleone said. "I was the main Reggie and then there were some who filled in when I was double-booked, whereas now there is more of a team."
As Reggie there was always an event to attend and the hours were long. A football game could easily become a seven-hour engagement between tailgate appearances, actual game time, halftime performances, and postgame work. But being the University mascot was a labor of love for Pantaleone, who had also served as his high school's mascot, Charlie the Coaler.
"There weren't scholarships for being Reggie when I was the mascot," Pantaleone said. "I did it for the love of doing it."
Even after graduating and beginning a career as a financial auditor at State Farm, Pantaleone kept close ties to his alma mater, volunteering with the Illinois State softball team, mentoring Business Week students, and serving on the Alumni Association Board, where he serves on the scholarship and awards committees.
"On the awards committee I directly see the amazing things our alums are doing in a variety of disciplines," Pantaleone said. "I see the ones who are leading companies, doing breakthrough research, and teaching students to succeed in life. It is amazing what our alums are doing."
Wanting to ensure that future generations of Illinois State students are also able to succeed, Pantaleone has decided to pay it forward by making a bequest to benefit Illinois State.
I was the first recipient of the Marian Gardner Hinderliter and Hobart Hinderliter Scholarship," Pantaleone said. "I saw the difference it could make to a student receiving that financial assistance. Receiving a scholarship meant fewer hours working and I could focus on academics, involvement, and community service."
Pantaleone's bequest will benefit a softball player who is majoring in business-enabling him to combine two areas for which he is passionate.
"Illinois State University has become a part of my family," Pantaleone said. "I have always taken pride in my alma mater. The people here prepared me to be successful in my career. This is a way to give back to current and future students so that they can be successful themselves."