Alum credits career success to experiences at Mennonite College of Nursing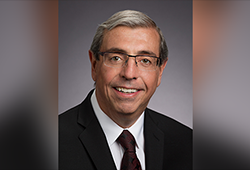 "I wouldn't be where I am today were it not for my experiences at Mennonite," said Mark Pelletier '81. "It led me to what I'm doing now. It gave me direction."
With this in mind, Pelletier has committed to a $1.2 million estate gift and $100,000 cash commitment to establish the Mark Pelletier Fund for Faculty, which supports faculty development within the nursing college.
The funds will be used to enhance curriculum, lift up emerging faculty leaders, and advance teaching methods in order to graduate empowered healthcare professionals. Before enrolling in Mennonite, Pelletier was a psychology student working part time at Americana Nursing Home. There he met then MCN Board Member Marietta Brandt, who encouraged Pelletier to pursue a career in nursing.
After graduating from Mennonite with a nursing certificate, Pelletier earned bachelor's and master's degrees in nursing from DePaul University in Chicago. He is now the chief operating officer and chief nursing officer for the Joint Commission, the leading accredited of hospitals and health care organizations around the world.
A message from MCN President Emerita Dr. Kathleen Hogan has stayed with Pelletier for his entire career. "She said, 'Always remember that your patients are entrusting you with their lives,'" he said. Pelletier has taken the message to heart, first as a patient-centered nurse and later on a much larger scale through his Joint Commission work. He oversees 600 surveyors who track how hospitals and other health care organizations measure up to accreditation standards set by the Centers for Medicare and Medicaid Services and the Joint Commission.
"Over 140,000 people die annually from hospital errors and hospital-acquired illnesses," said Pelletier. "The Joint Commission is working to lower that number by influencing quality and patient safety standards world-wide." Pelletier's giving is motivated by his desire to prepare future nurses who prioritize patient safety. "I had the privilege of having Mennonite's top professors teach me. Many of them are just now starting to retire," said Pelletier, who wonders who will educate the next generation of nurses. With Pelletier's support for faculty development, he hopes the answer will continue to be Mennonite College of Nursing.