Couple's bequest to support biology students' research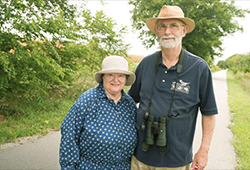 When Professor Emeritus Charles "Charlie" Thompson joined the Department of Biological Sciences in 1978, he wanted to have a lasting impact. Considering Thompson's 40-year commitment to his work—combined with a generous gift commitment—he and his wife, Karen, have indeed left an indelible mark on the University.
Throughout his tenure and following his retirement in 2007, Thompson has worked diligently to support students' research in the field of avian ecology. He established the Avian Ecology Laboratory, which uses the house wren as a model study system to investigate bird behavior, eco-immunology, and evolutionary endocrinology.
Thompson knows firsthand the impact philanthropy has on the ability to develop and sustain research.
"Research in biology does not come cheap. Philanthropy can help keep a research program going," said Thompson, who has made plans to support what is now the School of Biological Sciences.
He and Karen determined when writing their wills to continue funding research at Illinois State for years to come. The couple included a generous bequest to the Edward L. Mockford and Charles F. Thompson Summer Fellowship Endowment, which provides a stipend to support M.S. and Ph.D. biology students pursuing their research during the summer months.
"We wanted to set up a research program that would be here long term," Charlie said. "Karen and I would like to do what we can to help future graduate students pursue their goals after we are no longer here." The Thompsons are providing opportunities for students to participate in innovative research through their donation to Redbirds Rising. Their bequest places them in Illinois State's Heritage Society, which recognizes donors who have designated ISU as a beneficiary through a planned or deferred gift commitment. With more than $85 million in commitments, Heritage Society donors ensure a bright future for Illinois State University.