MCN Associate Dean Emeritus Catherine Miller establishes fund for professional development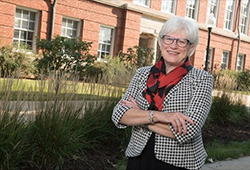 Associate Dean Emeritus for Academics for the Mennonite College of Nursing (MCN) Catherine Miller has always had a drive to learn as much as possible. It was this drive to seek out new experiences that led her to Illinois State and to raising up both students and faculty through the establishment of the Dr. H. Catherine Miller Fund for Non-Tenured Track Faculty. A pledge and bequest commitment totaling $32,500 created the new fund.
After graduating from St. John's Hospital nursing program, Miller took a full-time position working in orthopedics. Two years later she worked as a clinical instructor and helped nursing students obtain experience in clinical settings, caring for patients with issues ranging from broken bones to ailing hearts.
In 1988, Miller transitioned to administrative occupations. Miller was involved in the metamorphosis of the St. John's nursing program from a diploma program to a baccalaureate program. Years later she served Heartland Community College as associate dean and director of the nursing program, where she successfully worked with faculty to increase enrollment and national licensure exam scores of the graduates.
Then, Janet Krejci, dean of MCN at the time, asked Miller to consider a position with MCN. After the two spoke, Miller knew she needed to pursue the unique ideas and opportunities Krejci promised at Illinois State.
"I always push myself to do something different, and I loved Janet's ideas and what she had in mind for Mennonite," Miller said. "I found great faculty to work with, administrators who were committed, and the fulfillment of knowing that we were changing the lives of students as well as patients."
Miller noticed that the individuals who seemed to have the largest impact on undergraduate students in the program were their instructors, and non-tenure track faculty primarily taught classes in the undergraduate program, which focuses on the education of entry level nurses. During her time as associate dean for academics, she discovered that there was not much funding to support these faculty, and subsequently established the Dr. H. Catherine Miller Fund for Non-Tenured Track Faculty.
"We had funding for scholarships and research our wonderful tenure-track faculty pursued, but not as much funding for our non-tenure track faculty," Miller said. "I thought in retirement I would do something to specifically help students by supporting non-tenure instructors, who are crucial to the success of the baccalaureate nursing program."
That's why Miller structured her fund to be utilized specifically to help non-tenure track faculty expand on and improve their teaching practices by giving them the means to attend conferences, receive hands-on experience with the latest technological developments in healthcare, and engage in learning activities to better engage students in the classroom.
"All faculty are important," Miller said. "I just want non-tenure track faculty to know we value what they do. We need people with various ways of looking at things. Without them, students wouldn't receive the inspiration to look for things that are new and different."
Miller's investment in Illinois State University will impact the lives of faculty, students, and patients by ensuring that faculty have the means to engage in innovative instructional practices to provide students a diverse and holistic learning experience.
MCN Dean Judy Neubrander is adamant about the crucial role financial gifts will play in the continued success of MCN's program for the years to come.
"Alumni and friends who give back are paving the way for the next 100 years of MCN," Neubrander said. "Thanks to their contributions, the future is bright for both the college and the advancement of healthcare."
Miller shares Dean Neubrander's reverence for the impact of financial gifts and believes the college's future lies in the hands of those in the present.
"In our college we say: 'we are privileged to stand on the shoulders of those who come before us'," Miller said. "All the leaders in the college of nursing, Emmanuel Troyer, Lena Maxwell, Kathleen Hogan, Nancy Ridenour, and Janet Krejci, had the vision and forethought to bring us to the point we're at now. It is incumbent upon us in higher education and in nursing to maintain that, and to think about the next step."