A medieval legacy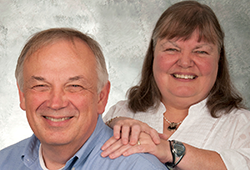 When Carol (Brush) Lind '75, M.S. '02, Ph.D. '07, first graduated with a degree in art education, even she couldn't have guessed that it was the first step in a journey that would lead her to a teaching role at Illinois State.
Though Carol had high interest in English courses during her undergraduate years, she never took the time to explore the field.
"I always wished that I could take more English classes," Carol said. "There are classes you would like to take but never had an opportunity."
After graduation, Carol and her husband, Ed '76, M.S. '07, whom she met at Illinois State, moved to Michigan to pursue careers and raise a family. Eventually they moved back to the area to be closer to family. When their daughter, Elizabeth, graduated from high school, Carol decided to pursue the degree in English she had always wanted.
"I was going to get another bachelor's degree, but during my second semester a professor suggested that I was wasting my time doing another bachelor's degree and suggested grad school, " Carol said. "The thought had never occurred to me. No one in my family had ever gone."
Carol finished her master's in English studies and decided to pursue a Ph.D. as well. Along the way she discovered a love of teaching. She especially relished sharing her area of concentration, medieval literature and the mysterious 10th century riddles from the Exeter Book.
"When you're really passionate about something, it can be very frightening to teach it," Carol said. "It's like having a favorite song. When you play that song for people you really like, you want them to love the song as much as you do. If they don't, you're crushed and wonder how they cannot feel about it the way that you do. That's how I feel when I teach the riddles."
Though centuries have passed since the riddles were written, students are still able to make a connection with the ancient words and come to enjoy their humor. Carol enjoys sharing them and her love of medieval literature, as well as other genres of literature, with new generations of students. She joined ISU's English Department faculty after completing her Ph.D. in English studies.
Because of the strong connection Carol and her husband have to the University, they decided to make a planned gift.
"When I came here as an undergrad, I had no financial help other than a teaching scholarship. Because I decided not to teach upon graduation, I had to pay it all back," Carol said. "There wasn't money available for my husband or me."
Their bequest will create two scholarships, one in the English Department and one in the History Department, allowing them to have an impact in areas close to each of them. "We decided it would be nice to leave a legacy at ISU and help someone in ways we weren't able to be helped," Carol said. "I went to school here, my husband and I met here, and I work here-so much of our lives have been influenced and entwined with the University that we just wanted to give something back."
The bequest will also ensure that their legacy is a lasting one, Carol said. She makes the point by referring to Beowulf, a favorite amongst medieval literature. When teaching the classic, Carol reminds students that Beowulf is kept alive as long as his story is kept alive. "People will know I was here," she said. "This is my story."