Raising the bar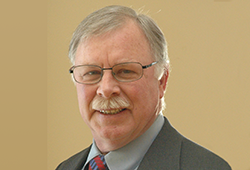 Trent Richards '71, M.S. '81, has raised the bar since college-literally and figuratively. Enrolling at Illinois State as a physical education major, Richards found his place with the Redbird track and field team, where he excelled. The 5-foot-6-inch athlete made the high jump his event of choice, even making a jump of 6 feet and 6 inches on one occasion. Many might have seen track and field as a sport to fade away upon leaving the alma mater. But Richards made it a part of his career.
Upon graduating, Richards taught physical education students in kindergarten through sixth grade and high school in St. Charles. All the while he served as track and cross country coach for the high school team, molding the next generation of runners. However after years of teaching and training, Richards recognized the growth of running events and decided to get in on the ground floor.
In 1974 he began administering running events in Chicago and the suburbs. Richards planned and managed 5K's and 10K's, handling logistics, volunteers, registration, and the finish line. By 1982, Richards left teaching, working full time as a corporate coach and overseeing 30 races.
The running craze taking off with the general public wasn't the only niche Richards carved out for himself in Chicago. He was also one of the first corporate coaches in the city.
"I went into corporations and assessed their executives and gave them a prescription of exercise and lifestyle," said Richards, who also founded his own company, One on One Fitness. While working full time, Richards continued to earn additional certifications, including a master's from Illinois State.
"Illinois State was great for me because they created a curriculum that was very sports medicine friendly," Richards said. "That's where I really studied the biomechanics of running, which has helped me considerably all of my life." Richards has continued coaching runners to this day.
Richard's unique skill set in event planning and working with corporate executives opened new paths for him in promotions and special events. He worked with clients such as Subway and Chevrolet, planning golf outings and even a multicity national indoor sailing tournament. Richards was also a driving force in creating the Doug Collins Classic at Illinois State, a golf event that raised money for scholarships.
In 1995 Richards found himself working for an ad agency, developing websites. He collaborated on a website, www.funbrain.com, which features educational games for children ages 4-12. The website was an immediate success finding a place in classrooms in the early days of the Internet. Richards was able to quit the agency and work full time as an entrepreneur, promoting the site to new audiences. The site was positively received by the public and eventually saw more than 100 million page views monthly.
"My relationships in the teaching world helped make me successful in this as it gave me the ability to talk to teachers, Richards said."
After selling the website and retiring, Richards created the Trent R. Richards Scholarship Fund for the School of Kinesiology and Recreation. The scholarship, which will be further enhanced by a bequest from Richards, is awarded to junior and senior kinesiology and recreation majors. Richards' wife, Joan, and son, Andrew, also supported him in making the gift.
"I've had an interesting life," Richards said. "Illinois State's been a very big part of that because I keep being challenged all of the time. When we sold funbrain.com I came into some wealth I never thought about having, so I started a scholarship through the School of Kinesiology and Recreation. Others have donated to it and I hope to see it grow even more."