A family legacy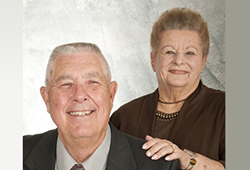 Larry '60 and Pat '61 (Hunkler) Stagen have made their lives in education.
After graduating from Farmer City High School, Larry enrolled at Illinois State with a State Scholarship, graduating with an English-speech-journalism composite major. Though he intended to pursue a career in sports writing, Larry found himself drawn to Washington High School, where he taught English for four years, advised the yearbook staff for 10 years, and ultimately assumed the role of director of counseling for 27 years.
Pat also had an extensive career in teaching. She received a State Scholarship and attended the University, where she majored in elementary education. After completing her student teaching at Metcalf School, Pat taught third grade at C.B. Smith School in Pekin until retiring.
While teaching, they both went on to earn additional degrees. Pat earned a master's in education plus additional hours, and Larry added a master's in administration and a master's in guidance and counseling.
"I have always loved children who are 8 and 9 years old," Pat said. "I taught third grade for 32 years. I really enjoyed it."
After retiring, Pat received news she was inheriting the 160-acre Hunkler farm, which had been in her family since 1846. However their hearts were in education, not farming. The couple decided to sell the farm.
Even though the farm was no longer in the family, Larry and Pat found another way to create a family legacy, while also promoting their passion for education. They created The Hunkler-Stagen Teaching Scholarship at Illinois State to benefit students who are committed to becoming teachers. The scholarship is created in memory of her parents, Mildred and Ray Hunkler, as well as her grandparents, Ruth and John Hunkler. Preference is given to students who are graduates of Farmer City-Blue Ridge High School, Deer Creek-Mackinaw High School, East Peoria High School, or Washington High School-schools that have held a special place in the lives of Larry, Pat, and their family. The endowed fund is established through an initial cash gift and a bequest in their estate.
"Education is becoming so expensive," Larry said. "A lot of families have two, three, or four children, and they have the expense of not only raising them but putting them through college. We have benefitted from our education and the benefits that we have received. It is our way of paying it forward."
By initially funding the scholarship with cash, Larry and Pat have been able to meet the students receiving the scholarship and see the impact that it has had. "The students are very appreciative," Pat said. "The blessings you receive are much bigger than what you give."
Pat and Larry continue to keep their family name alive through this scholarship and three high school scholarships they have created. They also completed a genealogy book composed of pictures, obituaries, and articles detailing the history of the Hunkler family. The book has been placed in several historical societies, museums, and libraries, allowing others to enjoy the rich history of their family.